Visibly Managing Your Working Capital Position
Working capital is one of the few remaining areas that can deliver significant cash to the business in a relatively short period of time without a large restructuring program.
When improving working capital in the organisation,the business must look beyond the boundaries of their own operational processes and understand drivers of cost and complexity in the entire working capital chain from revenue & inventory management through to expenditure management.
Total Working Capital Management (TWCM) has developed a collaborative approach that leads to a successfull implementation of sustainable working capital reduction.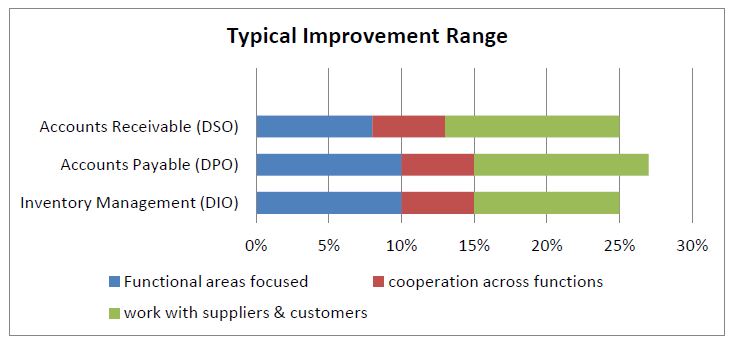 This is for illustrative purposes only, improvement will depend on individual company circumstances
Working capital questions business needs answered today
Area of Focus

Typical Client Issues

Potential Scopes of Work

Accounts Receivable

Is our aging in control, are we collecting sales revenue in time.

Is the Invoicing transition cost appropriate

Do we resolve any customer disputes in time and do these disputes cause delays in receiving payments

Are our internal processes, procedures, Policy & Practices effective

Do we offer appropriate "terms & conditions"

DSO Analysis

Collections activity and associated cost

Terms & Conditions review

Dispute management

Invoicing process (Customer order to cash)

Accounts Payable

Are we getting the best "terms & conditions" for our purchasing?

Are we availing all appropriate discounts?

Is the A/P transactions cost appropriate

Are our internal processes, procedures, Policy & Practices effective?

How well are your contractors being managed?

Are you leveraging your contractors to support production peaks and valleys

DPO Analysis

Receivables activities & cost

Vendor Terms & Conditions review

Payment cycle/process (Purchase to Pay) review.

Contractor Evaluation & Cost Reduction

Contractor Resource Rationalisation

Contractor Management Process and Performance Measure Development & Implementation

Inventory Management

Are the inventory levels at the appropriate level?

Is our F/G inventory in-sync with demand?

Is our customer service level acceptable?

Do we use the right tools & techniques for inventory management?

Are there systems in place to manage the Supply Chain process from beginning to end?

Stock analysis and policies for inventory and product stocking levels

Procurement cost review

Inventory levels and associated tools & techniques for inventory management.

Customer service levels and inventory positions.
Why involve Total Working Capital Management
We have delivered successful working capital reduction initiatives
We understand what these projects require & focus on the right balance between methodologies, processes, people, data, technology & knowledge to deliver sustainable results
Our team provides the right blend of expertise & industry knowledge